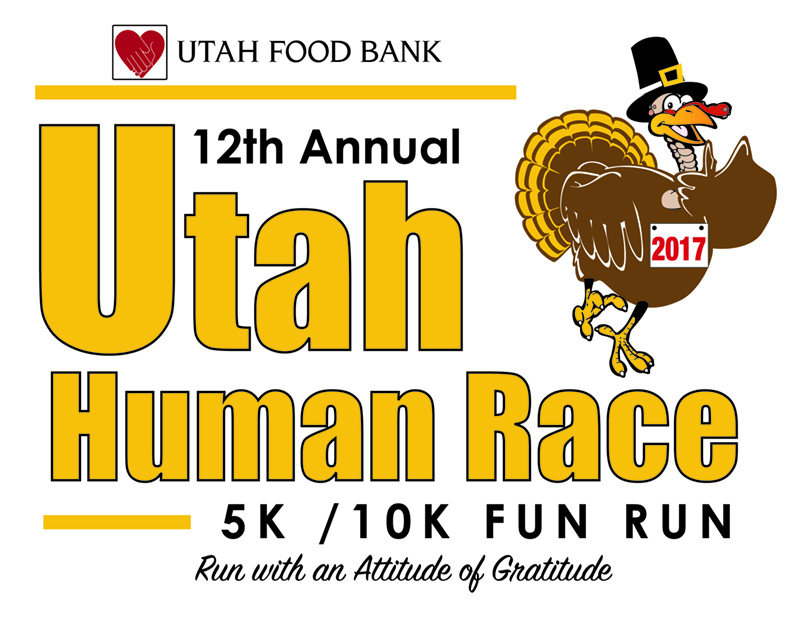 REGISTRATION OPENS OCTOBER 2, 2017!
Kick off your Thanksgiving morning by running with an attitude of gratitude at the 11th annual Utah Human Race on November 23, 2017!
417,000 Utahns, which equates to 1 in 7 Utahns, are at risk of missing a meal today. Even more alarming is that 1 in 5 Utah kids are unsure where their next meal is coming from. The Utah Human Race is one of the largest 5K/10K events in the state with close to 6,000 participants last year, and all proceeds directly benefit Utah Food Bank's mission of Fighting Hunger Statewide.
This year marks the 11th anniversary of this family-friendly race, which is a major component of our annual Holiday Food & Fund Drive. So join us on Thanksgiving morning (November 23) in Draper, preferably in costume, to help fight hunger while you make room for Thanksgiving dinner!
Race Location: 12101 S. State Street, Draper, UT (Draper Spectrum)
Start Time: 7:30 a.m. (10K) and 8:00 a.m. (5K)
*$10 price increase on 11/22 during Packet Pick-up (race shirt availability not guaranteed).